Energy market
In 2018, electricity demand in Italy (equal to 321,910 GWh) increased by 0.4% compared to the same period of the previous year. 87.1% of electricity requirements were covered by national (Italian) production and the remaining share, amounting to 14%, was covered by imports from abroad (balance of imports up by 16.3% compared to last year). The net national production (280,234 GWh) showed a decrease of 1.8% compared to 2017. Specifically, electricity produced from thermal production sources decreased by 7.6%, as did electricity produced from photovoltaic systems (- 4.7%), geothermal (- 1.9%) and wind (- 1.4%), while energy produced by water sources grew (+ 31.2%).
With reference to the results of the electricity market, the volumes traded on the First Day Market marked a strong increase on an annual basis (+ 1.2%), reaching 295.6 TWh.
The volumes traded in the Power Exchange grew (+ 1.0%), equal to 212.9 TWh, as did the volumes traded OTC recorded on the PCE and nominated on the DAM, increasing to a value of 82.6 TWh (+ 1.7%). Market liquidity stood at 72.0%, only 0.2 percentage points lower than the historical maximum recorded in 2017.
Liquidity on the DAM*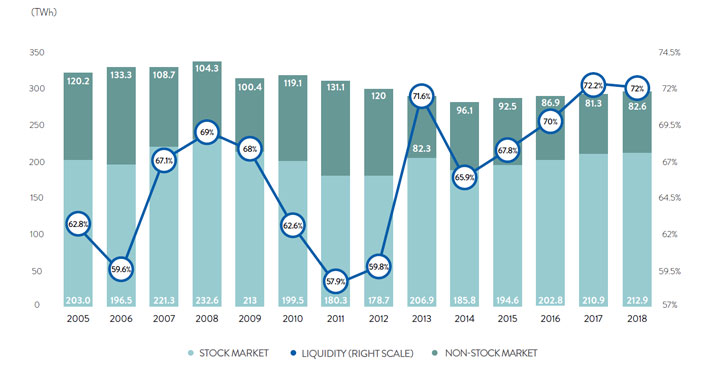 During 2018, the average energy purchase price (PUN) recorded an average value of € 61.31/MWh, up by € 7.36/MWh compared to 2017 (+ 13.6%). The analysis by groups of hours during 2018 showed more intense increases in off-peak hours, where an increase of + 7.93 €/MWh (+ 16.0%) was observed in off-peak hours and an increase of 6.13 €/MWh (9.8%) during peak hours, with prices standing at 57.52 and 68.46 €/MWh respectively.
The price peak/baseload ratio is equal to 1.12, a historical low and slightly down compared to last year (- 0.04).
MGP: Sole National Price (PUN) *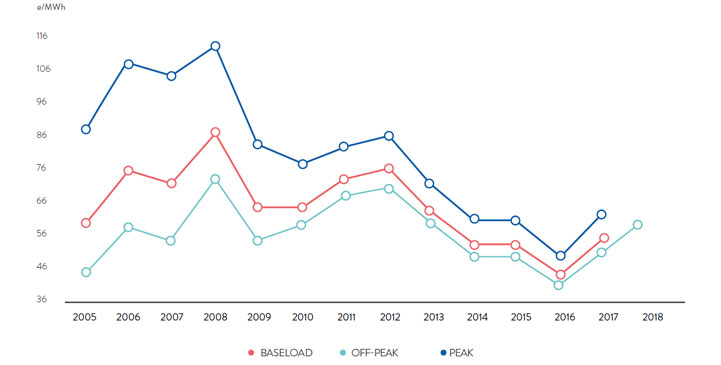 The zonal sales prices are also on the rise and are around 60 €/MWh on the peninsula and in Sardinia and oscillate between 59.37 €/MWh in the Centre-South and 69.49 €/MWh in Sicily. Domestic purchases amounted to 291.8 TWh, up 2.0% on an annual basis. An analysis by zone shows increasing purchases in all areas, particularly in the North (+ 3.3%) and in Sicily (+ 3.5%), with the exception of the Central North (- 0.5%) and the Central South (- 1.4%). Energy purchases in foreign areas (exports), equal to 3.7 TWh, are down (- 38.5%), reaching the lowest level in the last four years. The sales of electricity produced nationally reached 247.5 TWh, a slight decrease compared to a year ago (- 0.3%). The reductions observed, in particular in the Central South (- 10.9%) and in the South (- 5.2%), were countered by increases in the North (+ 4.8%) and in Sicily (+ 3.3%).
Energy sales in foreign areas (imports) grew, reaching 48.1 TWh (+ 9.1%).
MGP: Sale Prices *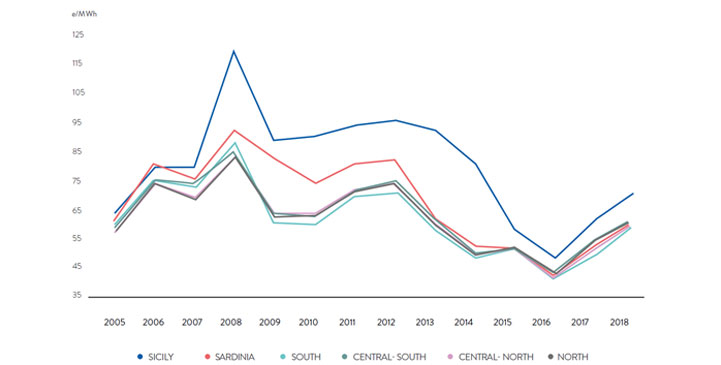 * Source: Energy Market Operator (GME) December 2018 Newsletter