Acea Organisational Model
Acea has adopted an operational model based on an organisational layout in line with the Strategic Business Plan consolidating its role to govern, guide and control the Holding not only with the current business portfolio focused on areas of greater value, but also on the strategic development of the Group in new business segments and territories. Acea's macro structure is organised in corporate functions and six operating segments: Water, Energy Infrastructure, Commercial and Trading, Overseas and Engineering and Services.
The activities of each business segment are described below.
Operating segment
The Acea macrostructure is divided into Corporate functions and in six industrial segments: Water, Energy Infrastructures, Commercial and Trading, Environment, Overseas and Engineering and Services.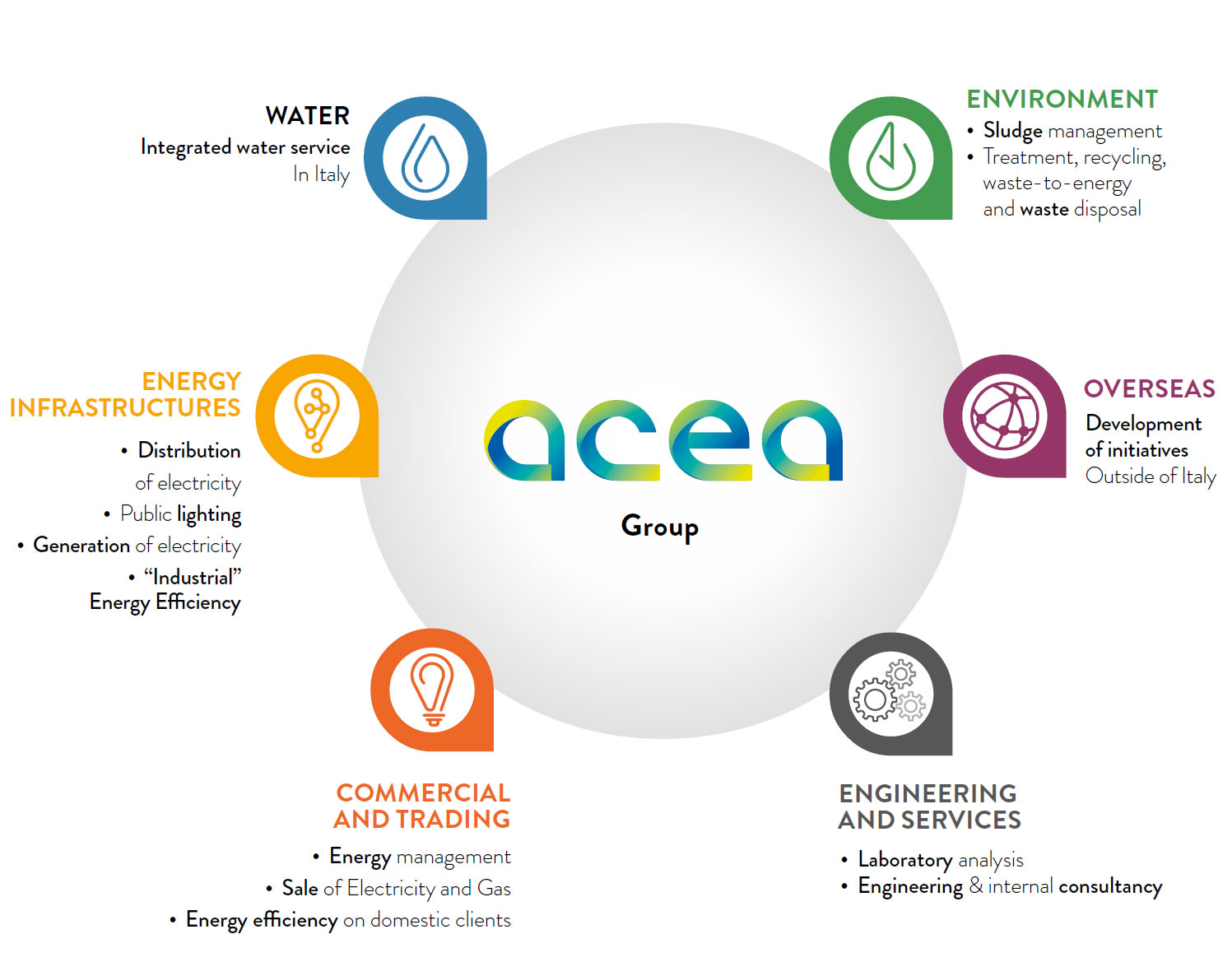 Water
The Acea Group is the top Italian operator in the water sector serving 9 million people. The Group manages the integrated water service in Rome and Frosinone and in their respective provinces, as well as in other parts of Lazio, in Tuscany, Umbria and Campania.
LEADING NATIONAL OPERATOR
Customers: around 9 million
Planning, development, construction and management of integrated water services

Energy Infrastructures
The Acea Group is a major operator in Italy with over 10 TWh of electricity distributed in Rome, while abroad it serves 3 million people. The Group also manages the public and artistic lighting of the capital for a total of 224,000 light bulbs. The Acea Group is committed to energy efficiency projects and the development of new technologies such as smart grids and electric mobility through particularly innovative pilot projects.
ONE OF THE MAIN OPERATORS IN ITALY
Electricity distributed: 9,792 TWh in the city of Rome
Energy generation: 550 GWh
Rome public and artistic lighting management: over 224,000 fixtures
Energy efficiency projects
Hydroelectric power stations: 121 MW
Thermoelectric plants: 97 MW
Photovoltaic plants: ~ 9 MWp

Commercial and Trading
The Acea Group is one of the key national players in the sale of electricity and offers innovative and flexible solutions for supplying electricity and natural gas, with the aim of consolidating its position as a dual fuel operator. Acea operates in the market segments of medium-sized businesses and families, striving to improve the quality of its services in particular as far as web and social channels are concerned. It supervises the Group's energy management policies.
ONE OF THE MAIN OPERATORS IN ITALY
Electricity sold: 6.0 TWh
Free market customers: 0.3 mln
Protected market customers: 0.8 mln
Gas customers: 0.2 mln

Overseas
With this Segment, the Acea Group manages water activities in Latin America and its objective is to make the most of development opportunities in other businesses related to those already held in Italy. It is present in Honduras, Dominican Republic, Colombia and Peru, serving approximately 4 million people.
The activities are carried out in partnership with local and international partners, including through staff training and the transfer of know-how to local entrepreneurs.
Water management in Latin America

Environment
The Acea Group is one of the leading national players with more than 1 million tonnes of waste processed each year.
It manages the main waste-to-energy plant and the largest composting plant in Lazio. In particular, the Group develops investments in the waste to energy business, considered high potential, in accordance with the strategic goal of producing energy from waste and protecting the environment.
MAJOR OPERATOR IN ITALY
Umbria, Lazio and Tuscany
Waste treated: 1.1 million tonnes
Electricity generated (WTE): 355 GWh

Engineering and Services
The Acea Group has developed know how at the forefront in the design, construction and management of integrated water systems: from the source to the aqueducts, from distribution to the sewer network, and treatment. It develops applied research projects aimed at technological innovation in the water, environmental and energy sectors. Laboratory services are of particular importance.
Analyses of water intended for human consumption: 458,252 drinking water, mainly Acea Ato 2 and Acea Ato 5
Laboratory analyses of wastewater: 179,197 wastewater, mainly Acea Ato 2 and Acea Ato 5
Number of on-site inspections: 11,270